Purchase Now!
Time-limited Discount
Expires September 16, 2020 06:59 PST
Buy now and get 97% off
uTalk: Lifetime Subscription (Any 2 Languages)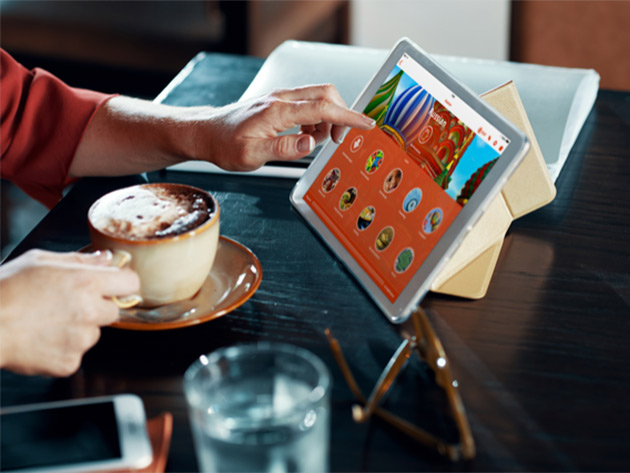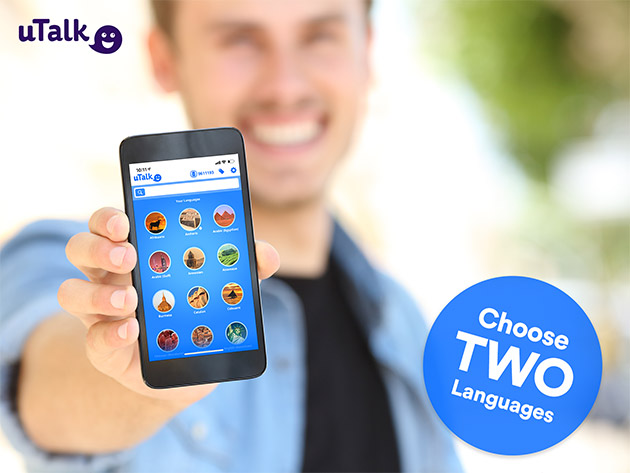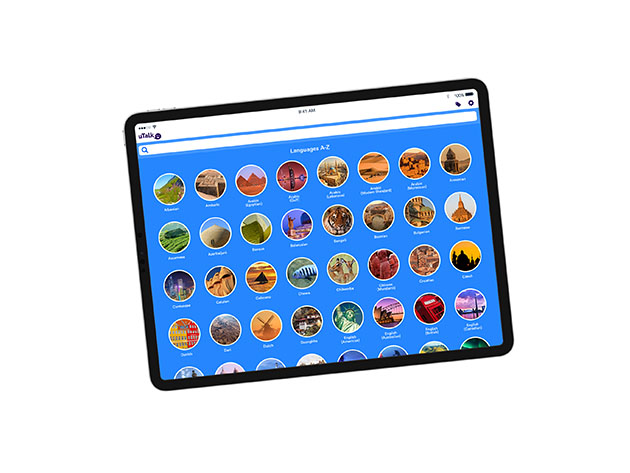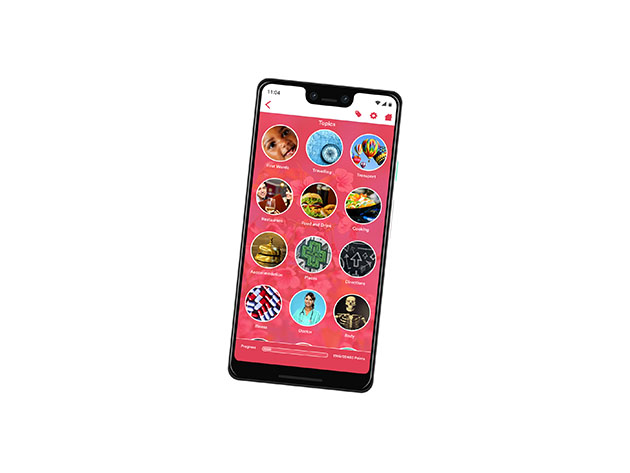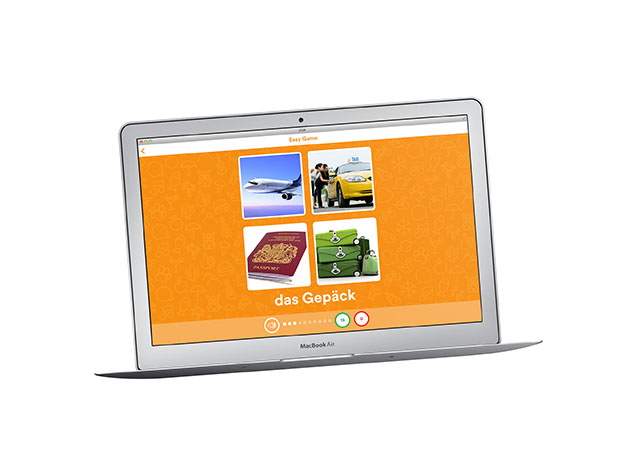 KEY FEATURES
We have all wanted to learn a language at some point, but it's hard to get started. Some language learning tools can be complicated and very time-consuming. But with uTalk, you'll be speaking key words and phrases in no time, and will start to see the results straight away. It helps you overcome the language barrier challenge by helping you learn real, practical vocabulary in a wide variety of languages from any device that you choose. uTalk's language programs let you listen to native speakers who are recorded in uTalk's recording studio and feature independently verified translations so you'll be able to navigate through your next vacation like a real local.
Choose two of over 140 languages (see Important Details on the Spec Information for full list) to learn from any device, any time you want
30 million+ customers have used uTalk learning method
Learn from any language, not just English
Over 60 different learning Topics
Up to 180 hours of learning but you can dip in and out of any Topic
Use uTalk on any device
Totally localized language app, so you can learn any of the languages from any language
Works offline as well as online so you can use uTalk on the go
Slow down the native speaker to perfect your pronunciation
You don't need to choose both two languages at once – you can pick one now and the other later
There is no time limit on when you must choose your languages
Discover real, practical vocabulary that you can use in real-world situations
Measure your achievements as you go along
Verify your learning by playing speaking games
Access your account from any device so you can pick up where you left off anywhere
Reviews
The Queen's Award for Innovation and Export
The Chartered Institute of Language Threlford Cup Winner 2019

4.3/5 stars on iOS App Store:


★ ★ ★ ★

★
PRODUCT SPECS
System Requirements
iOS
Android
PC
Mac
Not compatible with Windows 10 Mobile
Any web browser
Important Details
Pick two languages from a list of over 140 languages including:

Afrikaans
Albanian
Amharic
Arabic (Egyptian)
Arabic (Gulf)
Arabic (Lebanese)
Arabic (Modern Standard)
Arabic (Moroccan)
Armenian
Assamese
Azerbaijani
Basque
Belarusian
Bengali
Bosnian
Bulgarian
Burmese
Cantonese
Catalan
Cebuano

Chibemba
Chichewa
Chinese (Mandarin)
Cockney
Croatian
Czech
Danish
Dari
Dutch
Dzongkha
English
Esperanto
Estonian
Fijian
Filipino (Tagalog)
Finnish
Flemish
French
Galician
And more. Check full list here

Length of access: lifetime
To view complete terms and conditions, click here
7 Speed Reading: Lifetime Subscription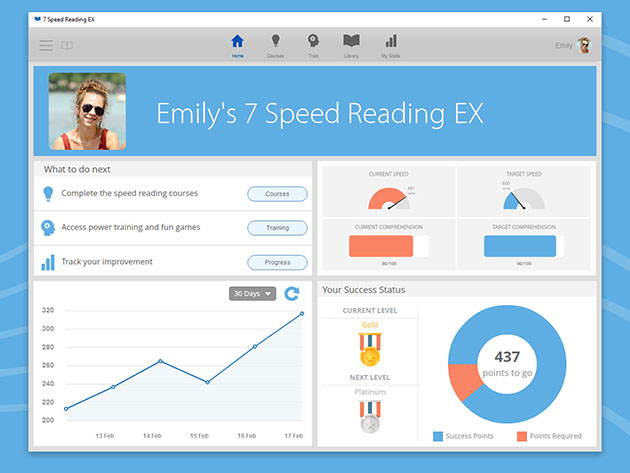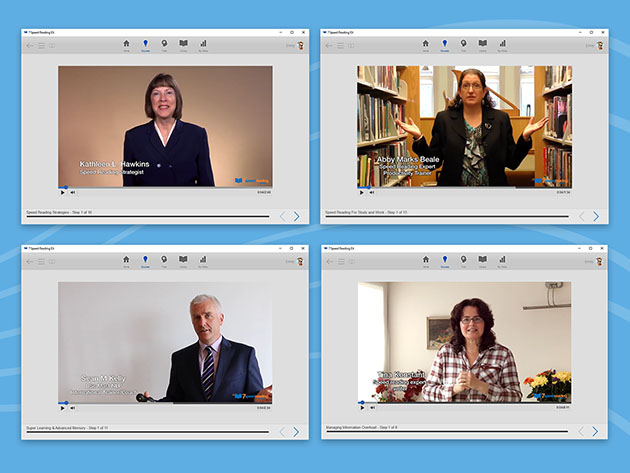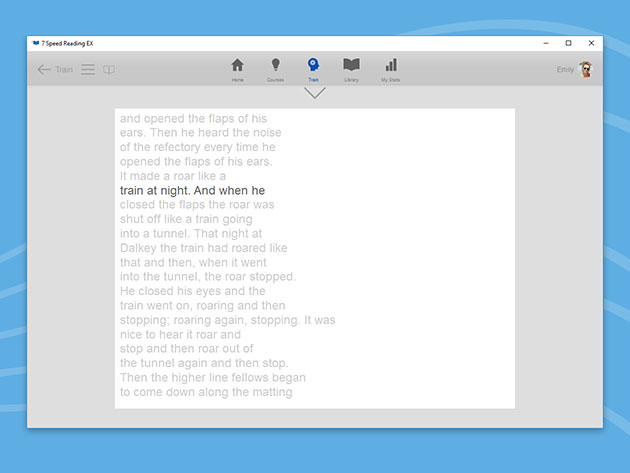 KEY FEATURES
Reading efficiency has been linked to greater success in school and work, making 7 Speed Reading EX an excellent investment in your future. This software focuses on training and aims to triple your reading speed through a variety of interactive mediums, including learning strategies, software activities, video training, and more. As a result, you'll fly through books, documents, web pages, and more, all while maintaining 100% comprehension — while opening doors to career opportunities you never thought possible.
Read up to 3.471 times faster, w/ full comprehension
Upload any article, webpage, text file, or PDF into your library
Remove bad reading habits w/ exercises designed to improve comprehension
Receive guidance from world-leading experts w/ included video tutorials
Access 20,477 eBooks free, right on the 7 Speed Reading EX platform
Sync your profile w/ all of your computers through the Cloud so you can access your library anywhere
Use progress reports to track your improvement over time
Learn how to take care of your eyes through eye & body health training videos
Reviews
TopTenReviews: Gold and Excellence Awards Winner
PC World: "The most comprehensive speed reading system anywhere – with 7 learning strategies, 15 software activities, video training, ultra-advanced tracking, and much more."
PRODUCT SPECS
System Requirements
Mac OS X 10.6 or later
Windows 7, 8, 10, Vista, XP
Linux
Chrome OS
4 GB RAM
Intel Core i5 Processor or later
Important Details
Length of access: lifetime
Redemption deadline: redeem your code within 30 days of purchase
Max number of devices: 5
Access options: desktop
Updates included
Integrity Training: Lifetime Subscription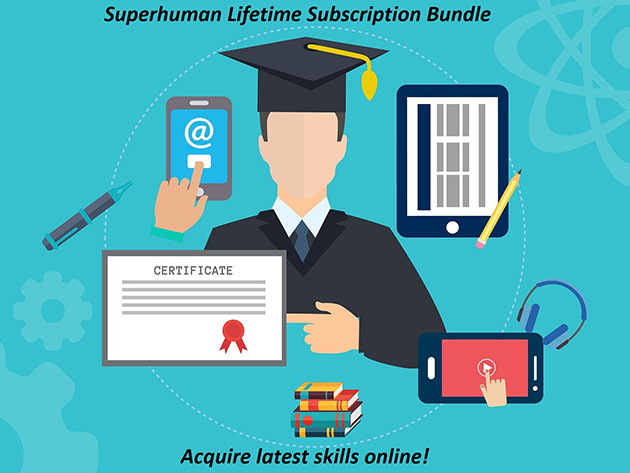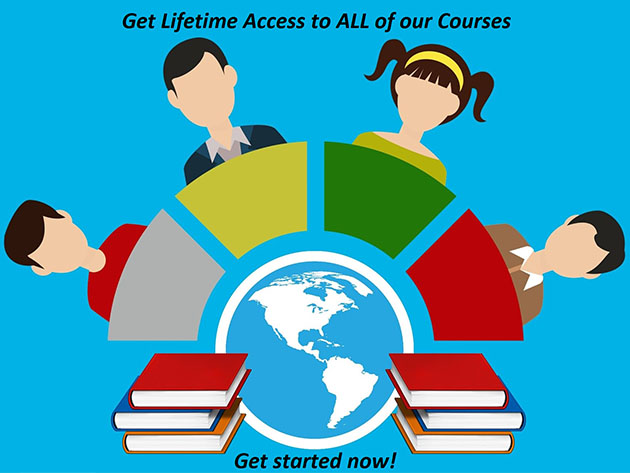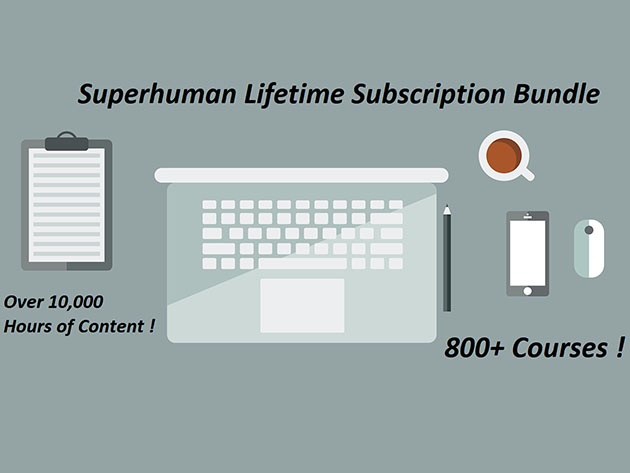 KEY FEATURES
Introducing Integrity Training — an online provider of proven on-demand training for corporate, government, and education employees. The ultimate online learning package, Integrity Training gives you lifetime access to all 600+ courses with completion certificates covering a wide variety of topics, including IT certification, project management, business & soft skills, sales & marketing, design, big data, programming languages, blockchain development, and more. These training classes are taught by field experts with multiple certifications from providers like Microsoft, CompTIA, PMI, ITIL, Cisco, VMware, Mile 2, and more.
Over 600 courses covering topics from Project Management to Web Development
Expert instructors w/ at least 15 years of field experience & multiple certifications from providers like Microsoft, CompTIA, PMI, and more
24/7 online training from any device
Note: Lifetime access is limited to only the courses purchased and does not include access to future content/courses
Testimonials
"The sheer number of courses available at this price is incredible. The courses are high quality and well worth the money." – Molly Tompkins, HR Director
"I love that I have unlimited time to earn the IT certifications I'll need to get my next promotion. I don't have a lot of time to learn, so this purchase made a lot of sense." – Janet Whitworth, Systems Engineer
Course Categories
Microsoft Certifications
PMI Project Management Certification
ITIL®
CompTIA Certifications
Cyber Security Certifications
Microsoft Office
Business & Soft Skills
Sales, Marketing & Productivity
PRODUCT SPECS
System Requirements
Any device with basic specifications
Important Details
Length of access: lifetime
Unlimited learning per student
Unlimited graded practice exams
Certified content
Completion certificates included
Access to all current content only
Redemption deadline: redeem your code within 30 days of purchase
Access options: desktop & mobile
Fitterclub: Lifetime Subscription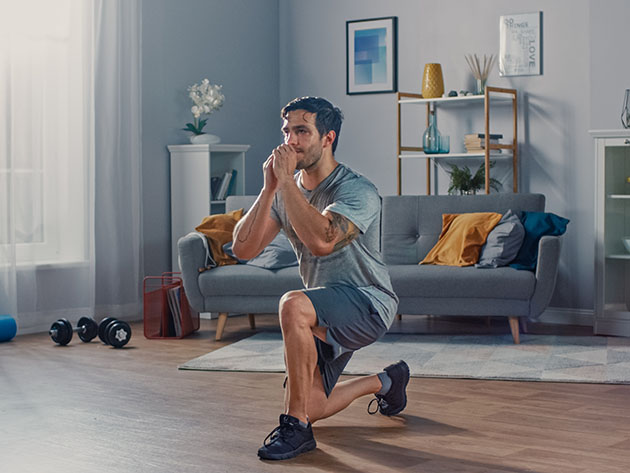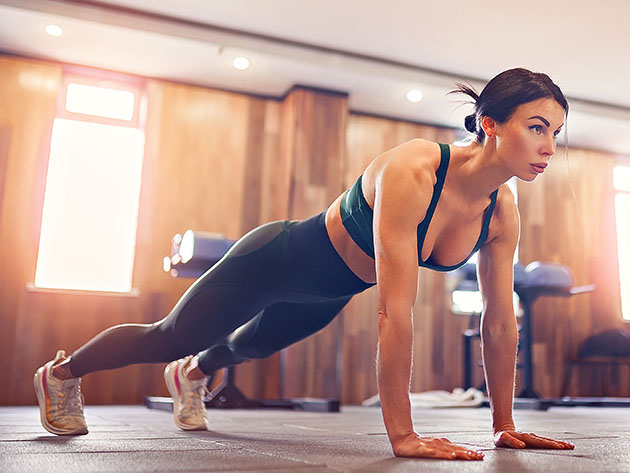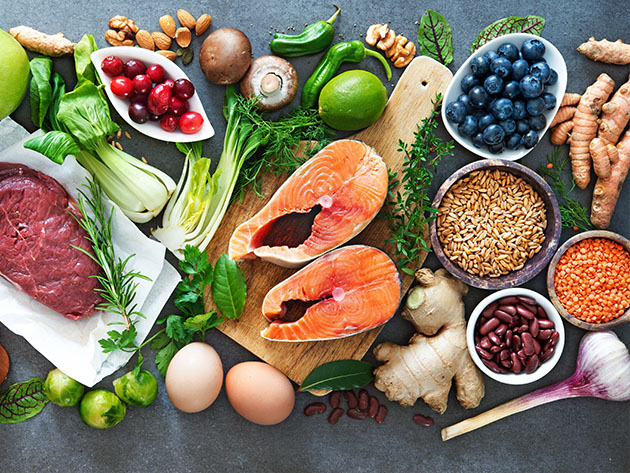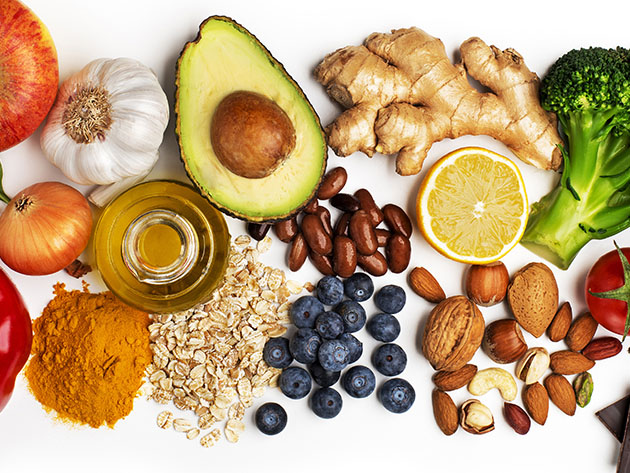 KEY FEATURES
Fitterclub is a community of people who want to make long-lasting changes to their health, fitness, and overall lifestyle. Whether you want to transform yourself, shed a few pounds, tone up, or just get healthier, they'll provide you with personally tailored exercise and nutrition plans to help you reach your goals. With Fitterclub, you'll get the hands-on attention you need to constantly improve your workouts and nutrition to help you feel great forever. Through curated videos and nutrition plans, Fitterclub gives you all the benefits of a personal trainer at a fraction of the price.
Build a personalized workout & nutrition program through a simple questionnaire
Train just 30 minutes per day, 5 days a week on your personalized fitness program
Choose the food you want & have fun w/ delicious, healthy recipes tailored to you
Change your approach to working out & nutrition
Access your workouts anywhere you have an internet connection
PRODUCT SPECS
System Requirements
Access your tailored workouts from anywhere, any time, on any device
Internet required
Important Details
Redemption: must redeem within 30 days of purchase
Length of access: lifetime
Personalized weekly workout programs & videos
Personalized weekly meal plans, full recipes & tips
Your own Fitness Coach, tracking & motivating you
Workout videos, nutrition guides & lots more
Your program reviewed monthly & improved using data analytics
Access to previous workouts and meal plans
Performance optimization
Tailored fitness for with life-changing results
A unique fitness program built for you
Personal support from your fitness & nutrition coach
The latest techniques to get real results
Hundreds of training & nutrition videos
MindFi: Lifetime Subscription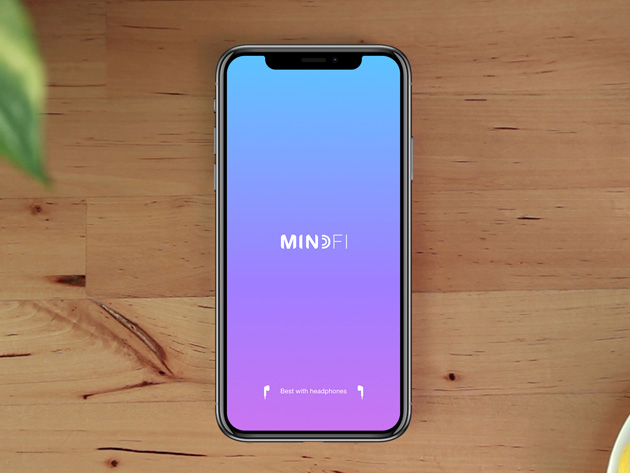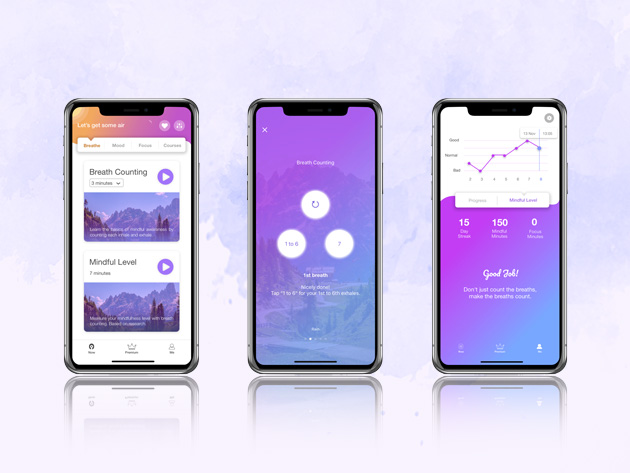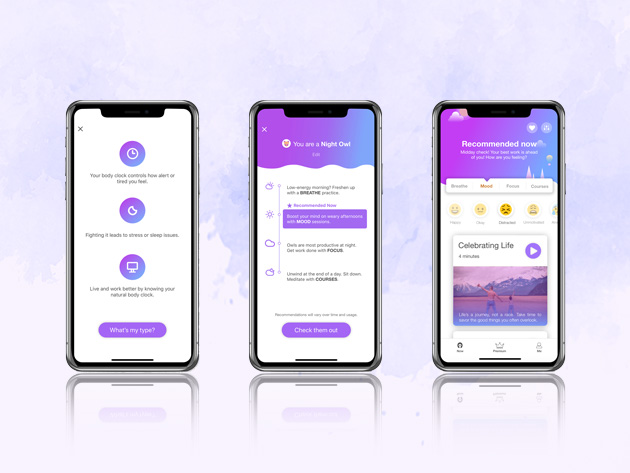 KEY FEATURES
Destress, reduce distractions and improve your relationships with MindFi, the innovative app that helps bring mindfulness into your busy life. Created by top meditation teachers and neuroscientists, MindFi helps you stay mindful with open eyes, so you can recharge wherever and whenever you want. It suggests 4 different mindfulness modes based on your local time of day: You can take a quick break with a silent breathing session; practice short, relevant meditations to make rough days better; focus on your to-dos with the Pomodoro timer; or, if you have time, decompress with 10 minutes of closed-eye meditation.
Apple App of the Day!
Improve your focus, reduce stress & improve your relationships w/ mindfulness exercises
Get 4 different mindfulness exercise types suggested to you based on the time of day
Take a break w/ short, haptic breathing exercises
Boost your mood anywhere w/ short meditation exercises
Use the Pomodoro timer to increase your productivity
Begin & end your day w/ 10-minute mindfulness courses on sleep, leadership & more
Track your progress w/ research-backed exercises
Reviews
Forbes: "MindFi is a perfect app for every aspiring meditator."
Wome'n's Weekly: "MindFi gets you to use your phone positively for a mindful cause."
PRODUCT SPECS
System Requirements
iOS 10.0 or later
Android 4.4 or later
Important Details
Length of access: lifetime
This plan is only available to new users
Redemption deadline: redeem your code within 30 days of purchase
Access options: mobile
Updates included